Orthopedic Surgeon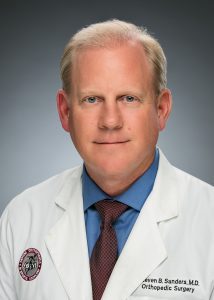 Dr. Steven Sanders is a board-certified, fellowship-trained orthopedic surgeon specializing in joint replacement, general orthopedics and sports medicine. Since 1995, Dr. Sanders has performed thousands of knee, shoulder and hip surgeries in the Dallas/Fort Worth area.
As a leader in the orthopedic field, Dr. Sanders continues to advance his expertise in the latest arthroscopic and orthopedic techniques by presenting and participating in training sessions for surgeons.
As a top rated orthopedic sports medicine surgeon, Dr. Sanders' specialty is providing patients with surgical and non-surgical options to relieve joint pain and regain mobility from injuries and arthritis. He often repairs joint injuries with arthroscopic techniques, but sometimes patients may require minimally-invasive open repairs to ensure less tissue and muscle disruption.
Recognized Orthopedic Surgeon
Dr. Sanders' passion to stay at the forefront of joint replacement for knees, hips and shoulders has resulted in his being recognized by his peers in D Magazine as one of Dallas' top orthopedic surgeons.  He was also featured on Good Morning Texas discussing an innovative approach to hip replacement available today. A native of Lubbock, TX, he enjoys spending time with his family along with golfing, outdoors and traveling.
Education and Training
1985 – Zoology – B.S. – Texas Tech University
1990 – M.D. – Texas Tech University Health Sciences Center School of Medicine
1991 – Internship – General Surgery – University of Louisville School of Medicine
1995 – Residency – Orthopedic Surgery – University of Louisville School of Medicine
1996 – Fellowship – Adult Reconstructive / Total Joint Arthoplasty – Texas Center for Joint Replacement
Contact Us
Contact our Southlake clinic at 817-203-2663 or our Irving clinic at 469-297-2663 to find out more about our orthopedic services and treatments.