Dr. Sanders Now Offers Regenerative Therapy
About Steven B. Sanders MD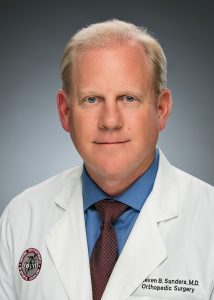 Steven Sanders M.D., orthopedic surgeon in Southlake and Irving, specializes in joint replacement, general orthopedics and sports medicine services. Whether facing hip pain, shoulder injury or knee pain, Dr. Sanders and our highly-qualified orthopedic team delivers quality results. Our goal is to help each patient heal and recover so that they might regain their ability to perform daily routines.
Advanced Technology
Through the use of advanced techniques and state-of-the-art medical technology, including anterior approach hip replacement, we are able to assist our patients with joint replacement, orthopedics and sports medicine care.
Board-Certified Orthopedic Surgeon
Dr. Sanders is a board-certified orthopedic surgeon who has years of expertise in joint replacement care and is known for being one of the few surgeons who can perform the anterior approach hip replacement technique. Our clinics utilize the latest medical technologies, allowing us to offer better treatment options and comprehensive hip pain care. Patients from Southlake, Keller, Trophy Club, Irving and surrounding cities come to Dr. Sanders for shoulder, hip and knee conditions, and treatment.
Keith shares his amazing story.
Linda's wonderful testimonial.
Why Choose Steven Sanders
Caring for your health is our primary concern. Guided by Dr. Sanders, our dedicated team of medical professionals are able to provide excellence in healthcare while offering both non-surgical and surgical treatment options. Our highly-skilled team has the experience and expertise to properly diagnose and treat a variety of musculoskeletal conditions. It is our goal to not only meet but exceed the expectations of our patients and referring physicians.
Proud Member of Precision Orthopedics & Sports Medicine
Dr. Sanders is a member of Precision Orthopedics & Sports Medicine, an orthopedic group specializing in arthroscopy and sports medicine, fracture care, total joint replacement and complex joint reconstruction, hand surgery, foot surgery, and treatment of spinal disorders.
Conveniently Located
Steven Sanders is accepting new patients. He has two conveniently located clinics, one in in Southlake, TX, and the other in Irving, TX. If you have questions about our clinics or are wanting to schedule a consultation, call our Irving clinic at 972-805-2182.
I will absolutely recommend Dr. Sanders!!! He is an excellent doctor with a kind and compassionate bedside manner and he did an impeccable job with my knee surgery. It has been a long time since I have been this impressed with a doctor. As an older adult, I feel that most do not see me…..he sees me.
Dr. Steven Sanders is a wonderful orthopedic surgeon. He listened to my concerns patiently and was able to recommend several options for treatment, including non-surgical options. What an amazing surgeon that he would recommend conservative treatments first.